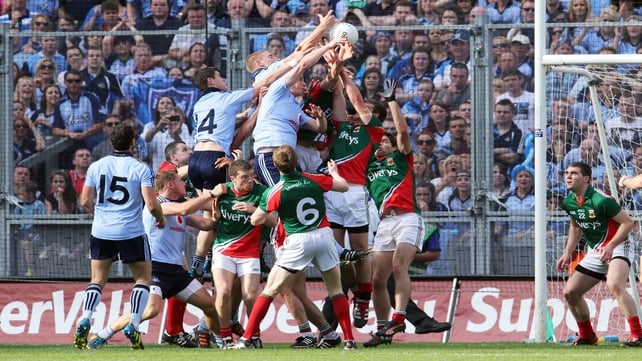 image source
GAA has always been a sport of great rivalry: Cork and Kerry, Kerry and Dublin, Galway and Mayo, Armagh and Tyrone and Dublin and Meath, but what's undoubtedly become the most intense rivalry in recent years is Dublin and Mayo.
The modern rivalry started in 2006 with the All-Ireland senior semi-final, Dublin went into the match as heavy favourites and Mayo hadn't beat them in the history of the championship. Before the match even started, the two teams became embroiled in a bitter confrontation. Mayo who were well aware Dublin traditionally practiced in front of the hill decided to aggravate the Dubs, by doing their preparations down that end of the pitch. Dublin responded by marching assertively towards the hill and their manager Paul Caffrey infamously shouldered Mayo selector John Morrison. What unfolded during the game would prove to be even more dramatic, however. By the 46th minute Dublin had established an impressive 7 point lead but they faltered and Mayo erased the 7 point deficit by the 54th minute and took the lead minutes later. Dublin exhibited some strength by levelling it late on and came agonisingly close to snatching it but Mark Vaughan's effort rebounded off the post; to rub salt in their wounds Mayo immediately capitalised on their fortune by going up the other end and securing victory, by virtue of a superlative point from Ciaran McDonald. It would be six years before they would meet again, but Dublin were a much more formidable outfit by 2012. In 2011 they beat the almighty Kerry to clinch their first All-Ireland in 16 years. Mayo struggled for a number of years, but had a new batch of players with immense talent including Aidan O'Shea and Cillian O'Connor. Mayo dominated for much of the game and built what looked like an insurmountable lead of 10 points but Dublin mounted a comeback and cut the deficit to three before Bernard Brogan had a glorious goal chance thwarted by David Clarke with a brilliant save and Mayo held on. A year later Dublin had the perfect opportunity for revenge and they seised it by beating Mayo to win their 2nd All Ireland in 3 years. Mayo started brightly despite conceding a sloppy goal to Bernard Brogan early in the match and had a 1 point lead at half time. Dublin gained momentum in the second half with brilliant points from Paul Flynn and Bernard Brogan before Andy Moran scored a goal that looked like changing the complexion of the match. But Dublin's reaction epitomised their superior mental strength and scored an excellent team goal which finished with Bernard Brogan fisting it into the net. Mayo frantically tried to get back into the match but Dublin's defence held firm and Dublin were victorious.
Yesterday's encounter while devoid of the open expansive football we saw in 2013 was tactically engrossing. Dublin's porous defence in 2014 allowed Donegal to score three decisive goals and overturn a 5 point deficit to deny them a chance of competing in the final. Jim Gavin, a perceptive manager wasn't going to let that happen again. The other big challenge for Dublin was neutralising the threat of Aidan O'Shea who has been brilliant throughout this years championship, while you can't do anything about the aerial advantage he has you can reduce the supply of balls into him and Dublin executed that game-plan almost to perfection. Cian O'Sullivan was deployed to play just ahead of O'Shea and his marker and reduce the space where Mayo would possibly punt long balls in and when O'Shea did catch a long ball there were enough Dublin players to avert any danger. Dublin's major defensive error yesterday was overzealous tackling, which allowed Mayo to stay in touching distance throughout the match; with someone as adept from placed kicks as Cillian O'Connor, you're guaranteeing an almost certain point to Mayo, and O'Connor's 1-9 tally all came from placed kicks; in the first half Mayo only scored one point from play. In the second half Dublin didn't concede as many frees in easy scoring positions but Mayo were profligate in their shooting and kicked some very poor wides. When McMenamin scored the goal and Dublin increased their lead to a 7 point margin when 61 minutes had elapsed few could have imagined what the last 14 minutes would consist of. Dublin floundered and Mayo summoned the energy to mount an improbable comeback. Mayo pushed up and applied more pressure to Cluxton which led to the quality of his distribution deteriorating significantly. Cluxton made a major howler when his kick was blocked down by Andy Moran but his blushes were spared when John Small blocked Moran's goal attempt on the line. Dublin made some impetuous decisions in the later stages of the game. They should have killed the game but they ceded possession on a few occasions in the final stages and Denis Bastick's black card was a key moment, Paul Flynn instead of maintaining possession and waiting for an easy chance took on an audacious attempt for a point and missed. Just prior to the Mayo penalty Dublin had the ball but yielded possession once again. After O'Connor converted the penalty, Cluxton kicked an egregious kick out, and his defence had no time recover, Mayo levelled it and scored 1-4 in less than 10 minutes. To Dublin's credit, they regained some composure and managed to prevent a humiliating defeat and the replay will take place on Saturday evening. Cluxton may have had a chance to win it, but with all the commotion that had just ensued and the fact he hasn't been accustomed to kicking frees this year, he can be excused. But Dublin need to ensure they have a reliable kicker next week, Dean Rock who is a fine player has not yet become inured to the extreme pressure of kicking when the stakes are so high. Cluxton needs to devote some time to practicing his kicking during the week and return to free-taking duty next Saturday.
The other major talking point of the match was the cynicism of both teams. On a number of occasions both teams engaged in cynical fouling. Cian O'Sullivan could have been black carded as could Lee Keegan and Aidan O'Shea. The Black Card, which is designed as a deterrent to prevent players from deliberately dragging or tripping the opponent has proven controversial with some criticising its inconsistent application by referees. To be fair to yesterday's referee Joe Mcqullian it was a very difficult match to officiate and the most important decision of the game he got correct, which was awarding Mayo a penalty.
Some have suggested a TMO to facilitate the referees decision making process and it would certainly be a welcome addition. The most contentious issue however was the dirty play by both teams. In the first half Cillian O'Connor, who has a history of violent misconduct struck Rory O'Carroll on the face which led to him being substituted and getting 10 stitches; some may suggest it was accidental but the force and height his arm struck at would indicate some malice. Johnny Cooper put his studs into a Mayo player and was fortunate to escape with a yellow card. In the second half Aidan O'Shea feigned being headbutted when video evidence actually proved he dragged Philly McMahon to make it appear like a headbutt. And then in the dying embers of the game, Lee Keegan eliminated one of Dublin's most prolific scorers by pulling him to the ground, Connolly's reaction was inexcusable and he was correctly sent-off but Cillian O'Connor had some insolence demanding a red card when he should have been sent off in the first half. All of that nonsense is a blight on the sport and hopefully on Saturday it's a much cleaner game.
The match on Saturday will be fascinating. From a Dublin perspective they've got to employ a similar strategy as Sunday while improving their discipline, Mayo who are so eager to win that elusive All-Ireland will have to be more accurate with their kicking and prevent Dublin from scoring goals, they did limit Dublin to only 2 goal chances yesterday which were both converted, if they can prevent Dublin getting a goal Mayo will be confident they can win. If Dermot Connolly's red card isn't rescinded he will be a major loss to Dublin but Jim Gavin has built a team with a lot of depth so they should cope with that. Saturday will be another chapter in this intriguing and developing rivalry. But as a Dub, a 10 point victory would suit me just fine.